Shotcrete, Concrete & Grout Accessories
Dry Application
Thiessen Team has a full range of Dry Application accessories available: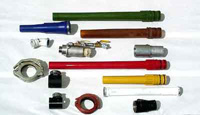 SHOTCRETE Nozzle
Shotcrete Nozzle body for 2" ID dry shotcrete hose. This nozzle body can accommodate a 24" nozzle tip (yellow) or a 38" nozzle tip (red).
2.5" equipment also available.
Hydro-mix shotcrete nozzles available for the 2" and 2.5" ID dry shotcrete delivery system. We also offer the complete nozzle assembly for hydro-mix delivery.
SHOTCRETE Hose
Stock lengths of 50', custom length also available.
Raised ends - easily removable.
Longevity even with the most abrasive mix designs.
Clamp
3" snap clamp for a 2" dry shotcrete hose end and gaskets.