Bulk Shotcrete
Ultra-Stick Hybrid Shotcrete is a dried, pre-blended, cement-based shotcrete manufactured from high-quality, carefully selected materials. Ultra-Stick Hybrid Shotcrete has greatly enhanced shooting characteristics and physical properties.
In order to ensure excellent product quality and consistency, all of our materials are produced under the guidance of our in-depth Quality Assurance/Quality Control Program. The sand and aggregate materials are sampled and tested and mill certifications are reviewed prior to production.
Our sands and aggregates are thoroughly dried, then mixed with powders and admixtures in precise quantities to accurately formulate the required shotcrete mix design. This dry, pre-blended mixture is then placed in 13 cubic yard trailers at our facility in Elko, Nevada , for bulk delivery to the minesite. Fiber is added at the final batching point of the bulk handling plant.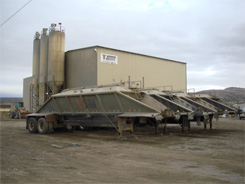 Thiessen Team produces base mix designs for shotcrete application which can be customized to meet your requirements. Learn More about Ultra-Stick Hybrid Shotcrete — Wet Application.
Thiessen Team has been producing shotcrete, concrete and grouting products for the last 30 years.