Underground Fuel / Oil Stations
Thiessen Team proudly distributes Rock-Tech's 'Satstat' brand Fuel Systems:
Underground Portable Fuel Station
Improve fuel accessibility and better manage environmental risk with the Satstat 200 to 2000 imperial gallon self-contained portable fueling station. Mine water or chemical fire suppression systems are available. Automatic thermal activated fire suppression and door closure system, 110% bladder containment, dual tank for oil/fuel combination, anti-siphon safety system.
Satstat Fuel Station Brochure (PDF 316KB)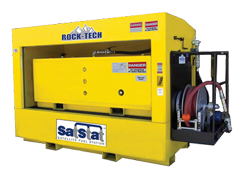 New Oil & Waste Oil Handling System
Utilizing bulk oil cubes to store and dispense, dual dispensing for two types of oil. Dispense new oil from one cube and pump waste oil into the empty cube.
Satsat Oil Handling System Brochure (PDF 863KB)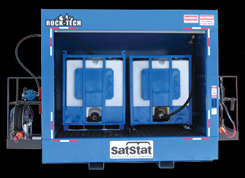 Grease Station
Portable 55 gallon grease drum enclosure and dispenser.
Satstat Grease Station Brochure (PDF 130KB)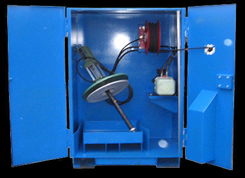 Fast Transfer & Fuel Management Systems
Fast transfer and fluid management system preventing cross contamination of fluids.
Satstat Fast Transfer & Fuel Management System Brochure (PDF 403KB)
Satstat Fast Fueling Nozzle Brochure (PDF 98KB)