Grout Application Equipment
Grout Application
Our application and technical arm also stretches to the grout industry. A close relationship with Chemgrout and Ictus allows us to offer a complete line of grouting equipment, including cable bolt, high pressure or high volume.
The Chemgrout and Ictus complete equipment and attachment line is available to you from Thiessen Team.
Chemgrout Machines: Machine specifications (PDF 1.6MB)
The Ictus M500 pump is portable and lightweight while robustly constructed. In combination with one of the TC-3100 mixers it is mainly used for full-column grouting as in cable anchoring and also fro spraying materials.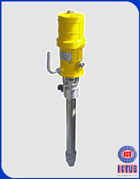 Model Ictus M500
Ratio: 8,4:1
Air Supply: 36psi (2.5 bar) min; 116psi (8bar) max
Maximum Working Pressure: 870psi (60bar)
Maximum Rate: 7gpm (26lpm)
Weight: 33lbs (15kg)
Uses: Pack Stressing, Anchor Grouting, Pack Stressing, Spraying and White Washing
Ictus/ Spedel Machines:
Call us for Minepro, Langford, Cam Machines