Mobile Scalers
BTI offers a complete range of underground mining scaling vehicles:
ScaleBOSS 3D Scaler:
Designed for 3 x 3 to 5 1/2 x 5 1/2 meter headings with heavy duty compact construction, the ScaleBOSS 3D is designed for a new generation of mining productivity and safety.
A five-axis boom offers enhanced flexibility and superior coverage where other scalers fail. The heavy-duty, compact construction makes it easy to maneuver while withstanding severe conditions.
Ergonomic ROPS/FOPS certified operator cabin and HVAC system maintains excellent personnel safety while providing high visibility and comfort.
Features & Benefits:
Optimal for 3 x 3 to 5 1/2 x 5 1/2 meter headings
Five-axis boom for excellent maneuverability
Powerful and reliable Deutz diesel engine
Spherical roller bearing articulation joint designed for long life
Closed Loop Hydraulic Wheel Drive with separate reservoir, 4 wheel drive and traction control
Spring Apply Hydraulic Release(SAHR)parking /emergency brake in each hydraulic wheel motor
Closed-loop hydraulic wheel end service brakes via
Pump-over-center swash plate
Heavy-duty mining tires
Load-sensing hydraulic circuit for boom and steering Functions
Dedicated open-center hydraulic circuit for breaker fire Function
24Vdc / 80 amp electrical circuit with CANBus based system, proportional electro-hydraulic control and touch-screen human interface
Ergonomic ROPS/FOPS certified operator cabin with excellent visibility and operator comfort, complete with HVAC
Heavy duty fabricated boom structures with versatile feed, robust slew bearing, and dual rotary actuators for optimized coverage
CX8SB (800 ft-lb class) scaling breaker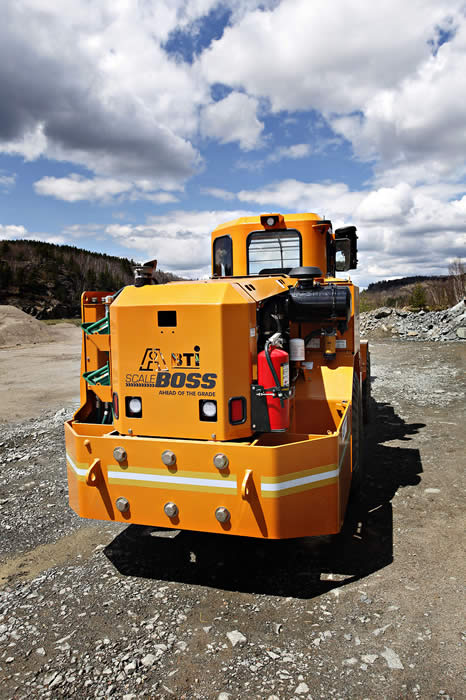 HFS Hammer Feed Scaler:
For safe and efficient mine scaling, trust BTI engineered mine scalers. Flexibility, manoeuvrability and variable breaker power to align with your scaling requirements.
Breaker Technology's HFS (Hammer Feed Scaler) Series of Scalers are engineered and manufactured to handle key requirements of the scaling operation:
When testing seams or rock laminations, the tool will occasionally get wedged in the material. Withstanding the resulting prying loads requires a relatively large size breaker with a large diameter tool and heavier body. The BX8 provides a blow energy of 800 ft lbs and can be adjusted to suit the ground conditions to avoid problems from over-scaling. The hydraulic system is a two-circuit design; one complete system for the carrier and one for the breaker operation, making it quick and easy to identify and address maintenance issues and keep downtime to a minimum.
Shock loading to a boom system is common when a large rock falls unexpectedly onto the boom arm during the scaling process. The HFS Series Underground Scaler is ruggedly built to handle 1.5 T and abnormal loads during scaling. A heavy-duty telescopic boom knuckle comfortably withstands loads. The carrier is further enhanced with four hydraulically operated stabilizers which remove any stresses on the axles during scaling. For any carrier with a boom, stability and good weight distribution play a vital role in reducing shock loads, ultimately providing longer life and reduced maintenance.
All cylinders and the hydraulics are protected to avoid damage from the loose material. All cylinders and hoses are positioned under the boom or housed to protect from falling rock. A protective canopy or cabin ensures safety while operating from the operator's seat. A remote control pendant for the boom and breaker is also available.
Features & Benefits:
Similar to precise manual scaling, operators use sight and sound to evaluate scaling requirements. HFS Series Scalers are designed for mine ready application

Durable BX8 breaker provides adjustable blow energy an oversized tool, ease of matching breaker output to scaling requirements

Scaler Head with Hydraulic Extension, Swing & Tilt Three axis movement permits optimum scaler positioning to ensure only loose rock is scaled
Telescoping & Knuckle Positioner provides high rigidity, torsional strength, telescoping extension and strategic guarding of hydraulics

Scaler operates under a with Variable Control System to adapt to site conditions; this eliminates over-scaling; allowing for accurate 'sounding'

Easy set-up and operation in parked position with Heavy Duty Stabilizers or optional pusher blade. Allows for immediate removal of scaling material from traffic areas
HFS Series Underground Scalers Brochure PDF
VPS Vibratory Pick Scaler:
For safe and efficient mine scaling, trust BTI engineered mine scalers. Flexibility, manoeuvrability and variable breaker power to align with your scaling requirements.
Features & Benefits:
High mobility/high speed scaler

+/-450 vehicle articulation

Excellent operator visibility due to low profile engine shroud height

Operator cab positioned mid-machine allows for excellent visibility for tramming and scaling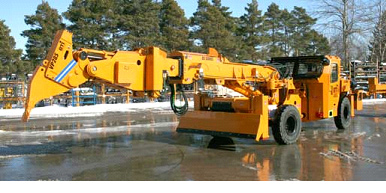 VPS16 Vibratory Pick Scaler PDF
RMS18 Scaler:
Features & Benefits:
High mobility/high speed scaler
+/-45° vehicle articulation
Excellent operator visibility due to low profile engine shroud height
Operator cab positioned mid-machine allows for excellent visibility for tramming and scaling
Self-leveling tube-in-tube stabilizers allow for quick set up and stable operation
Heavy duty cross-section boom construction provides for superior strength and dexterity