Underground Construction
Thiessen Team has a full array of underground construction experience including but not limited to: chute installation, air-doors, shops, cranes, sand and paste handling, ladders, escape-way landings and more...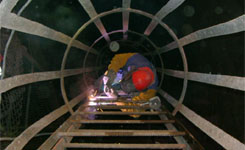 Escapeway services-
Laddered Escapeway Systems
To compliment our professional raise lining services, Thiessen Team also offers the design, fabrication and installation of laddered escapeway systems. These systems can be custom built for any application. They include, but are not limited to, lids, landings, and cages around the ladders. Once designed, built and delivered to site, Thiessen Team will install the system in a safe and professional manner, meeting or exceeding your expectations. Please contact us to discuss any upcoming projects you may have.
View our contracting groups Project Portfolio.