Shotcrete Transmix Vehicle
Shotcrete Transport Vehicle
BTI's SCT Series Shotcrete Transport Vehicle is a heavy duty, low profile vehicle specifically designed for shotcrete transmix / shotcrete remix operations in underground applications.
Features
Bi-directional drum rotation
Internal Drum flutes - allowing for material discharge without tilting (ideal for low profile applications)
Oval Loading Hatch(s)
High Load Capacity Bearings and Rollers
Different carrier sizes designed to fit inside of your heading dimensions.
3, 4, 5 and 6 cubic meter barrels to suit your load requirements.
plus many, many more features and extras available...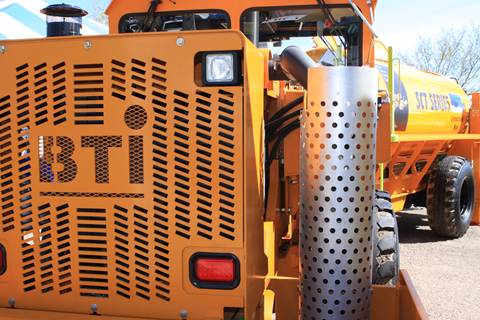 Shotcrete Transmix Vehicle Brochure (PDF 285KB)
Shotcrete Transmixer LP12 Specifications (PDF 1,011KB)