Wet Shotcrete and Pumping Equipment
Jump to:
Wet Shotcreting and Pumping
Schwing Wet Machines
Aliva® Wet Machines-New Models
Aliva® Wet Machines - Superseded Models
Wet Spray Systems
Underground BTI Transmixer
Underground Hybrid Shotcrete Carrier (Link to Underground Mobile Equipment)
Wet Shotcreting and Pumping
Thiessen Team's experience with wet shotcrete application is second to none. We have employed experienced professionals with project diversity and technical expertise as well we distribute equipment and products that we know will get the job done.
We have aligned ourselves with industry leading manufacturers. We have done the leg work for you.
Thiessen Team is a distributor for Schwing®, a name that the concrete pumping industry has depended on since the mid 1970's. 'Reliability', 'workhorse', 'value for money', are just some of the phrases that Thiessen Team looks for when recommending equipment.
Schwing has an extensive line of placing, stationary and boom pumps that can perfectly match your expectations. If you are considering a concrete pump that will provide longstanding value, consider a Schwing, and allow Thiessen Team to select the right model for your requirements.
Schwing Wet Machines
SCHWING® SP305 Trailer-Mounted Concrete Pump (PDF 1.28MB)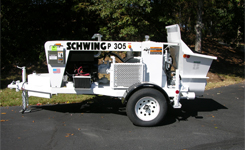 Output to 30 cubic yards per hour
Pressure to 642 psi
1.0" Maximum Aggregate Size
Twin cylinder open loop all-hydraulic concrete pump provides smooth output up to 30 cubic yards per hour with industry leading fuel efficiency. A transfer tube valve is chosen for versatility and operates reliably with minimal maintenance pumping grout, shotcrete or concrete.
The SP305 is the logical upgrade from a ball-valve pump. Hydraulically driven components apply up to 625 psi on the material to achieve impressive horizontal and vertical distances. The SP305 will provide fast return on your investment when you take on more projects thanks to the pumps ability to handle up to 1" aggregate mixes. The lightweight and compact size of this pump makes it very portable for multiple pours in a day. Ease of operation makes the 305 a great entry-level pump that integrates into most contracting companies.
Rely on the 305 to expand your pumping horizons handling grout for block-fill, shotcrete and concrete. Many concrete contractors rely on the 305's ability to handle a variety of mixes while providing output to handle the majority of job requirements. Standard features include LED taillights and aluminum wheels for low maintenance and upgraded looks.
SCHWING® SP750/SP1000 Trailer-Mounted Concrete Pump (PDF 963KB)
Output to 70 cubic yards per hour
ressure up to 1100 psi
1.5" Maximum Aggregate Size
This all-hydraulic concrete pump sets the standard for fuel-efficiency, reliability and performance. Twin circuit hydraulics combine with standard dual shifting cylinders, agitator and Long Rock ValveTM to provide smooth pumping of harsh mixes, shotcrete and grout. Fast cleanout adds more jobs per day with the lowest per yard operating costs.
The compact size of the SP Models means easy towing to the job. And fast cleanout of the Rock ValveTM adds more jobs per day for more profits. Schwing all-hydraulic design is the key to ultra-reliable operation.
Remote control (cable or optional radio remote) frees the operator to monitor the end hose and the pump. Critical functions including on/off and forward/reverse are at your fingertips.
Aliva® Wet Machines-New Models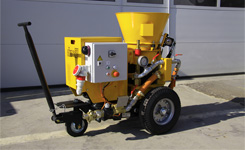 Description
The Aliva-237 is a sturdy concrete spraying machine for wet and dry spraying process.
Uses
Thanks to its variable output, the Aliva-237 can be used for small jobs, such as joint filling, as well as for extensive slope consolidation work.
The Aliva-237 is available in the following versions:
STANDARD
Electric drive, single speed
Electric drive, with FC for variable rotor speed
With air drive, variable rotor speed
Aliva®-257 Concrete Spraying Machine (PDF 1MB)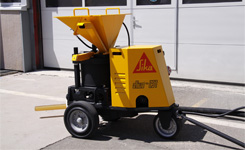 Dry - and Wet Shotcrete
With the newly developed, universal AL-257, dry and wet Shotcrete are equally possible. No changing on the machine from dry to wet shotcrete has to be performed. For changing from wet to dry shotcrete, the machine has to be cleaned and dried up. The integrated exhaust system and a newly designed hopper allow a high filling degree of the rotor chambers, which leads to low pulsation and less rebound.
Application and conveying capacity
With a weight of just 750 kg and compact measurements, the AL-257 fits on every site, is easy to handle around and adjusts itself to every application. With a huge spectrum of conveying capacity from 0.7-9.6 m3/h, there is no work which could not be conducted economically. For thin layer concrete renovation with the 2.5l rotor up to slope protection of an excavation with the 12l rotor, with the AL-257, one always has the right equipment at hand.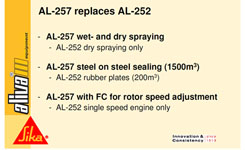 Aliva®-267 Concrete Spraying Machine (PDF 483KB)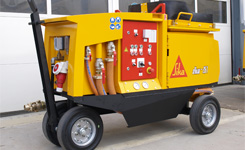 Application
The AL-267 is a multi-functional machine for wet and dry application of sprayed concrete in the thin steam method. The modular construction allows the right type for all requirements. With an output capacity of 4-21 m3/h the range of applications covers: Excavation-protection, rock stabilization, slope protection, swimming pool construction, hydropower projects, tunneling, mining, etc. Easy handling, flexibility and functionality are unique for the AL-267.
Aliva® Wet Machines - Superseded Models (used machines and parts only):
Wet Spray Systems
The Sika®-PM 4207 is the result of a technical development based on the experience and knowledge that was acquired in the last few years through its successful predecessor, the Sika®-PM 407, on construction sites all over the world.
Specially designed hopper with agitator and vibrator grill for shotcrete operation with steel/polymer fibers.
Main Features:
Extremely robust and compact design, purpose-built for working conditions of mining and tunneling.
Deutz Tier-3 diesel engine, air/oil cooled. Simple and extremely reliable.
On-board screw compressor. 6,5 m3/min. 7,5 bar max. Electronically controlled.
Double piston concrete pump P715. VHS control system. Simple and with extremely long maintenance intervals.
More efficient and accurate additive management system, resulting in cost savings for the client.
On-board computer with multilingual color display with indicates performance, composition of ingredients, fault diagnosis, alarms, etc.
Cabin design according to FOPS ROPS criteria.
Xenon working lights.
Protected outriggers.
Turbo engine for working at high altitude.
Aliva®--302.1 Telescope Spraying Arm (PDF 315KB)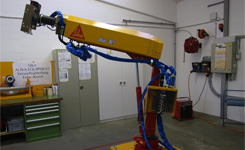 For mining and small tunnels.
Modular concept.
Air, electric, diesel driven.
Simple mounting on to carriers.
Wet or dry applications.
Impressive application reach of 24' vertical and 21' horizontal.
The telescope spraying arm AL-302 has been designed especially for mines, small galleries and excavations. Owing to its simple and rigid construction, it is most suitable for mounting on to different carriers or used as a stand alone unit on a skid plate or fork pocket frame.
Aliva®--503 Mini concrete spraying system (PDF 291KB)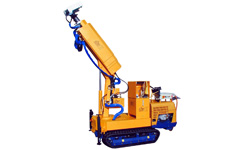 For mining and small tunnels
Modular Concept
Air, electric, diesel driven
Very flexible concrete spraying
The mini concrete spraying system AL-503 is a handy mechanized concrete spraying tool, especially designed for mines, small stopes and pits. The unit consists of the telescope spraying arm AL-302 mounted on a tracked carrier. For flame proof operation, the diesel motor of the carrier is replaced by an air motor.
Aliva®-403.4 Liquid Dosing Unit (PDF 69KB)
The dosing unit Aliva®-403.4 for liquid accelerators enables an infinite setting of accelerator for small quantities.
The BASIC Version is equipped with a simple control which is done entirely on the dosing unit itself, i.e. the amount of additive is set manually by means of the dosing knob and thus cannot be synchronized with a concrete spraying machine.
The Aliva®-403.4 is most suitable for manual spraying together with the concrete spraying machines Aliva®-237/ Aliva®-257 and Aliva®-267.
Aliva®-403.6 Liquid Dosing Unit (PDF 193KB)
High capacity
Entire range of additives
Continuous adjustable output
Automatic synchronization adjustment
The AL-403.6 for liquid additives enables water independent dosing of additives. The conveying can be set infinitely.
The MANUAL version is equipped with a simple control box. Operating is done entirely on the dosing unit itself. The amount of additives is set manually by means of the dosing knob.
The SYNCHRO version can be connected via control cable with the concrete spraying machine. Operation of the dosing unit is carried out by remote control from the concrete spraying machine. If the conveying capacity of the concrete spraying machine is changed automatically, the amount of additives will proportionally be adjusted.
Underground BTI Transmixer
BTI's SCT Series Transmixer (Remixer or Shotcrete Transport Vehicle) is a heavy duty, low profile vehicle specifically designed for remix operations in underground applications. All SCT units are mounted onto BTI's LP Base Carrier Series.
BTI Shotcrete Transmixer Brochure (PDF 284KB)
BTI Shotcrete Transmixer LP12 specifications (PDF 1MB)
BTI Shotcrete Transmixer LP15 specifications (PDF 3.6MB)
Features & Benefits
Bi-directional Drum Rotation
The mixer is driven hydrostatically over a planet gear. The necessary driving power is achieved by a variable axle piston pump enabling a continuously adjustable rpm regulation between 0 rpm to 14 rpm, in both turning directions. The bi-directional rotation of the remix drum allows variable mixing or discharge rate proportional to rotation speed. The drum speed is controlled by two proportional joysticks, one at the discharge end of the drum, the other at the operator's position on the vehicle.
Internal Drum Flutes
Provide remixing and material discharge without tilting the drum. This allows low profile operation and discharge, and allows the drum to be self-cleaning, eliminating the requirement to tilt the drum.
Oval Loading Hatch
Front to rear, allowing truck to be jockeyed for optimum loading.
High Load Capacity Bearings and Rollers
The large bearings of the gearbox and the two rollers mounted at the discharge end of the drum form a three point support system that allows the vehicle frame to flex without transmitting the flexing to the body of the drum. The discharge door is opened externally by means of hydraulic control levers operating the external cylinder. The chute is hydraulically powered for both tilt and swing movements. The discharge door seal is fabricated from hardwearing polyurethane material.