Cellular Concrete
Description
Thiessen Team Cellular Concrete (TTCC) is a low density, cellular, lightweight concrete - an effective combination of Aerlite-iX Liquid Concentrate and Thiessen Team Cement Slurry. TTCC is highly flowable, easily placed and does not require preloading. As a fluid, the material will completely fill annular spaces with a shrinkage of less than 0.3%.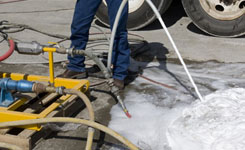 Cellular concrete is produced by the substitution of a uniform cellular structure of air cells (voids) for some or all of the aggregate particles found in standard concretes. Precise volume management of these air cells, produced mechanically by means of special foam liquid concentrates, results in controlled density over a broad range of applications.
The product itself is an engineered geotechnical material coating uniformly distributed air voids. In its rigid form, it can be thought of as concrete having air as the aggregate. Its density can be varied from 20 to 120 lb/ft cubic and its compressive strength can range from 20 to 3000 psi.
Mix On Site
Thiessen Team Cellular Concrete (TTCC) can be produced quickly and easily on site by mixing a preformed foam having the consistency of shaving cream with Thiessen Team Cement Slurry. The combination can withstand vigorous mixing and can be pumped long distances with little loss of cellular structure. It can be installed at rates up to 100yds cubic / hour., has excellent workability, and typically sets in the same time as normal concrete (accelerator can be included in the cement slurry for faster set times).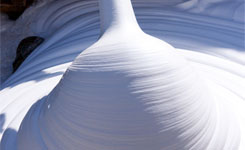 The combination of Aerlite-iX Liquid Concentrate, water, and compressed air is produced continually or in batches by a foam generator, calibrated to produce the right amount of foam for the density required. The foam is the last ingredient to be added to the mixer and does not expand or contract after addition. The cement paste, which coats the bubbles and fills the spaces between them, stabilizes the foam as it hardens.
Uses
Void & Cavity Fill
Reclamation Voids
Annular Backfill
Paste-fill
Diamond drill & exploration hole fill
Steel can encasement
Tailings OreTransfer Medium (mine tails, fine ores, waste crusher sands)
Aerlite-iX Liquid Foam Concentrate MSDS (PDF 192KB)
Thiessen Team Cellular Concrete Brochure (PDF 65KB)
PERVIOUS CELLULAR CONCRETE
Thiessen Team can also supply a pervious cellular lightweight concrete. This open-cell concrete has a capillary structure, allowing water to pass through.
USES
Drainage Structures
Tunnel Backfill
Permeable Road Beds
Annular Backfill
Pipeline Beds
Abandoned Mines
Thiessen Team has been producing shotcrete, concrete and grouting products for the last 30 years.