Ventilation Products
Accessories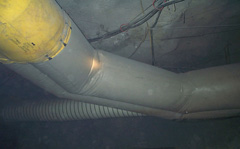 Elbows - Rocvent manufactures elbow and branch sections to provide a complete ventilation system. Elbow sections are manufactured in sizes designed to cover all our tubing diameters and normally provide 15, 30, 45, 60 and 90 - degree bends.
These sections are manufactured with a stronger material to withstand the additional forces present in fittings.
Elbows are available in sections. The number of sections will depend on the angle of the elbow. The choice of the number of sections will be determined on the basis of the minimum airflow resistance specified and cost considerations.
Elbows are equipped with an interior coupling ring at both ends, or equipped with snap-roc couplings.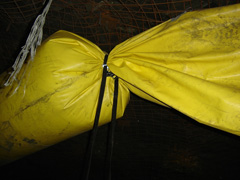 Dampers - Rocvent manufactures flexible PVC tube dampers. These dampers may be installed after lateral or pant leg wyes in order to control the volume of air to be split up into each leg. Steel dampers also available.